Connections 101: Life Wisdom from the Herd
Develop social and
emotional prowess
Learn to be a better communicator. Maintain healthy and lasting relationships. Motivate and positively influence friends, family, and colleagues. Using scientific research, professional experience, and the wisdom of horses, Linda Kohanov will help you develop greater emotional self-awareness and strengthen your ability to connect with others.
Experience Connections 101
What will I learn?
This foundational course teaches key techniques for emotional self-mastery, nervous system regulation, mind-body awareness, and nonverbal communication. You will build upon these skills to manage the emotions of others in personal and professional settings. You will learn how to think and act more clearly in tense situations while fostering connection, balance, and peace with yourself and others.
Create More Meaningful Connections
Improve your social intelligence so you can interact mindfully with friends, colleagues, family, and significant others.
Boost Your Self-Confidence
Understand yourself more fully so you can accept and trust yourself, live decisively, and have a greater sense of control in your life.
Improve Emotional Health
Learn how to read the messages behind your emotions so you can make decisions and operate from a place of balance.
Read a Room
Interpret others' body language and changes in behavior to improve your social interactions.
Master Emotional and Social Intelligence
Through her work with horses, Linda has spent her career helping people better understand themselves and others through social and emotional intelligence and reading nonverbal cues. Her unique and proven method will equip you with the tools to apply this skill in your life to make healthy changes.
See a short excerpt from Linda's Connections 101 Course.
Use Emotions as Signals
Learn a technique that turns your emotions into important signals that allow you to course-correct any situation, stay safe, set boundaries, and recover from loss.
Recognize Contagious Feelings
Learn to recognize contagious emotions, body postures, and physical sensations and how to handle them.
Conquer Stress
Regulate your nervous system to think more clearly in stressful situations. Overcome powerful emotions that lead to stress or anxiety, and jump-start aspects of the nervous system designed for healing.
Achieve a State of Relaxed Alertness
Enhance this highly productive state for clarity and creativity.
Experience Connections 101
Who will benefit?
If you are interested in understanding your emotions and developing important skills that will allow you to navigate relationships more successfully, Connections 101 is for you—from professionals who want to work with others effectively to reach their goals to families who want to nurture strong personal relationships with each other. The course was designed using a flexible personal platform that allows you to learn at your own pace.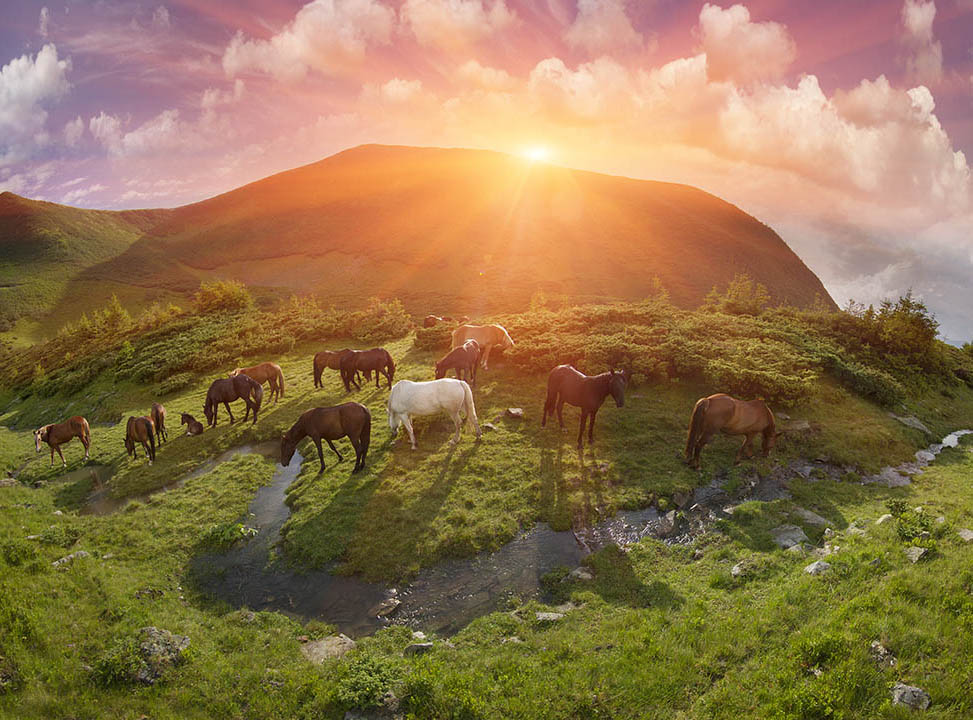 LINDA'S METHODS
What can we learn from horses?
Horses are masters at reading nonverbal communication. They also depend on each other to regulate their nervous systems. Linda's four-point method for managing emotions is taken directly from how horses use feeling as information. Research has shown that horses are also attracted to the state of relaxed alertness, a productive state for us all to manage stress.
I absolutely loved this series. It was as if Linda was literally in my living room, sharing her life's work. In her unassuming, humble way, Linda continues to provide folks around the world with an understanding of the human/equine connection."
Laura Brinckerhoff, LPC, Therapist, and Educator
SYLLABUS
What's in the course?
Connections 101 is an adaptation of the workshops that Linda has been teaching to thousands of individuals over the past decade. Our self-paced e-learning version of this training uses a combination of lectures, storytelling, explained scientific research, video of natural horse behavior, and practical exercises led by Linda herself. Unpacked across three major Lessons, each with multiple parts for a total of over 6 hours of course material.
Getting Started (15 minutes)
Feelings are Contagious (8 Parts, 1 hour 32 minutes)
Part 1: Core Experiences (13:52)
Part 2: Tuning In (06:31)
Part 3: Designed to Connect (06:49)
Part 4: Scientific Studies (08:30)
Part 5: Hidden Emotions (09:32)
Part 6: A Simple Tool (14:57)
Part 7: Mind/Body Connection (21:06)
Part 8: The Body Scan (10:43)
Use Emotions as Information (14 Parts, 2 hours 42 minutes)
Part 1: The Challenge (07:24)
Part 2: Answers and Antidotes (16:01)
Part 3: Emotional Message Chart (06:52)
Part 4: Fear and Vulnerability (07:44)
Part 5: Anger and Frustration (12:26)
Part 6: Incongruence Alarm (08:05)
Part 7: Disappointment (07:03)
Part 8: Envy and Jealousy (14:46)
Part 9: Sadness and Grief (10:12)
Part 10: The Master of Sadness (17:54)
Part 11: Depression (19:49)
Part 12: Shame and Guilt (20:01)
Part 13: The Suicidal Urge (05:11)
Part 14: What About the Positive Emotions (08:13)
Managing Emotions (10 Parts, 1 hour 44 minutes)
Part 1: The Symphony We're Playing Today (08:33)
Part 2: Emotional Intelligence PhD (06:00)
Part 3: Use the Body Scan (08:33)
Part 4: Interpersonal Mindfulness (12:08)
Part 5: Breathing Is a Language (08:08)
Part 6: Breathing Vocabulary (10:10)
Part 7: Breathe and Regulate (08:54)
Part 8: Coherence (14:39)
Part 9: Watch Nonverbal Dynamics (06:40)
Part 10: Gather Information and Diffuse Defensiveness (20:25)
Bonus Materials
Live Monthly Zoom Calls with Linda: Join Linda each month on a live 2-hour Zoom call where you can ask her questions and interact with other Connections students.
Guided Coherent Breathing: Original music and images designed to help people access "coherence," the state of "relaxed alertness" taught in Lesson 3. Coherent breathing encourages an optimal state for dealing effectively with challenges and thinking more clearly and creatively. By accessing this state yourself, you can also have a positive effect on everyone around you.
Emotional Fitness and Coregulation Skills for Equestrians, Pet Owners and Animal Advocates: In this guide, Linda covers emotions commonly encountered at the barn, and other contexts where humans and animals interact. Learn a quick protocol for managing fear. Also helpful to people who work at animal rescues, or adopt an animal needing extra support.
Members Only Facebook Group: Join a private community of Connections students on Facebook to share in the learning process, celebrate wins, and seek support from like-minded individuals.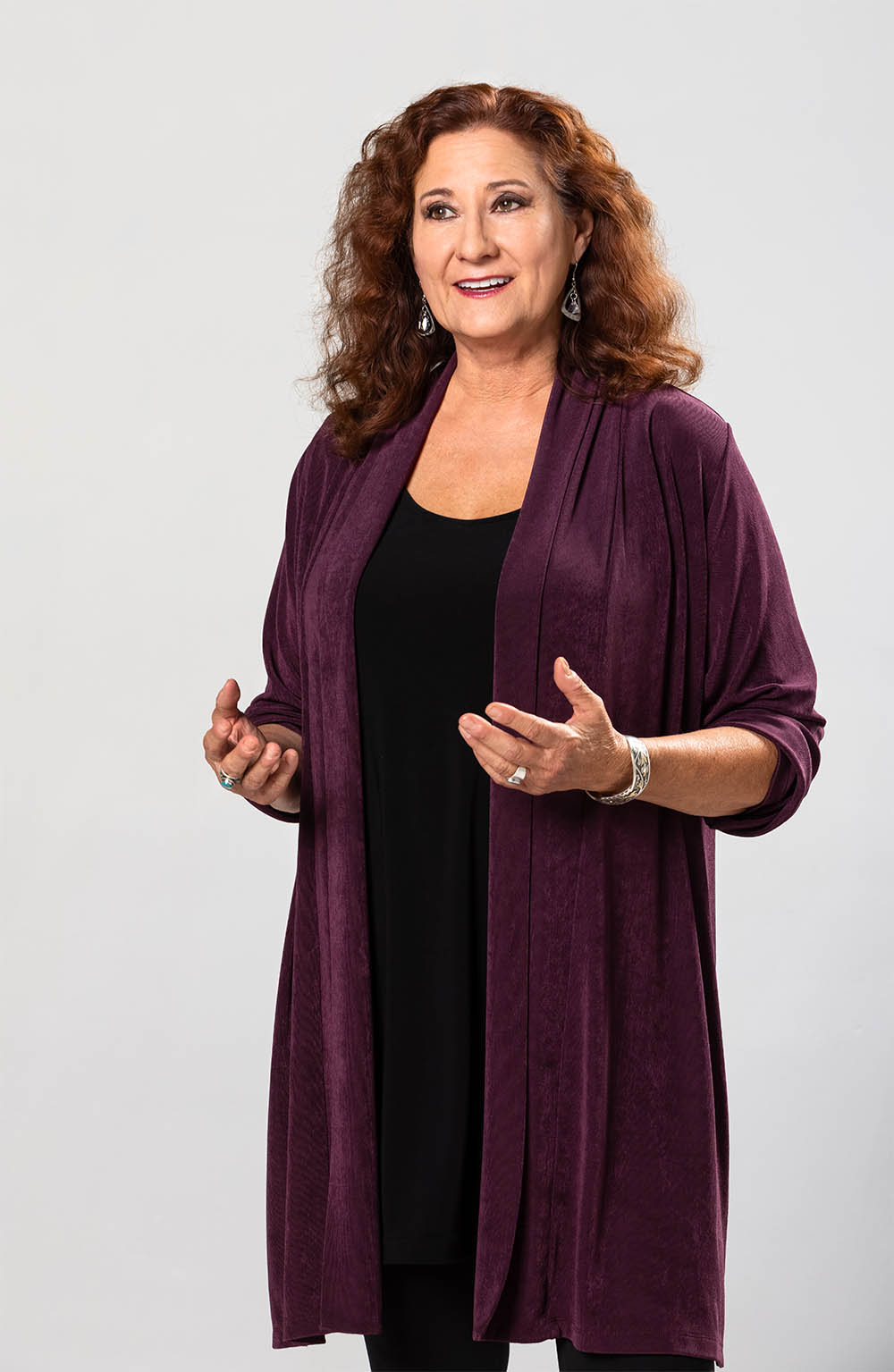 About Your Instructor
Linda Kohanov
Linda Kohanov is a world-renowned speaker, riding instructor, trainer, and author whose five books have been translated into multiple languages. In 1997 Linda founded Eponaquest, an equine-facilitated learning program she uses to teach people the skills needed to improve their leadership, assertiveness, personal empowerment, and emotional fitness. Linda and her team have trained over 300 instructors who offer Eponaquest-based programs across five continents.
How to Enroll
Pay all at once and save $49 or pay over time in six easy installments. Choose the option that best suits your needs. Take the course at your own pace. Repeat the course again and again.
MOST POPULAR
Six Easy Payments
33 Individual Lessons

Over 6 Hours of Instructional Video

Guided Exercises

Coursework Handouts

Unlimited Course Access

Bonus: Immersive Breathing Experience

Bonus: Live Monthly Zoom Calls with Linda Herself

Bonus: Members Only Facebook Group

10% Discount on Workshops with Linda
ONE-TIME PAYMENT
Save $49
33 Individual Lessons

Over 6 Hours of Instructional Video

Guided Exercises

Coursework Handouts

Unlimited Course Access

Bonus: Immersive Breathing Experience

Bonus: Live Monthly Zoom Calls with Linda Herself

Bonus: Members Only Facebook Group

10% Discount on Workshops with Linda
GUIDED JOURNEY PLAN
Online Course + Personal Coaching
Four 30-minute 1:1 Sessions with an Instructor Certified by Linda Kohanov

33 Individual Lessons

Over 6 Hours of Instructional Video

Guided Exercises

Coursework Handouts

Unlimited Course Access

Bonus: Immersive Breathing Experience

Bonus: Live Monthly Zoom Calls with Linda Herself

Bonus: Members Only Facebook Group

10% Discount on Workshops with Linda
Do I need experience with horses to benefit from this course?
No previous experience with horses is needed for you to benefit from this course. Whether you're a horse enthusiast or you've never been around one before, the coursework brings teachings in a way you may not have thought of before. You won't be learning about horses; you will be learning from them.
Will this help me in my job?
Absolutely! The techniques in this course can help you to better collaborate with different personalities, from aggressive to passive-aggressive, gain the trust of others, and become a positive force for change in the workplace. You will learn skills and techniques that can help shift the tone of the room, often without saying a word.
Will this help me if I work from home?
This course will help improve any work environment. The lessons learned can translate into better virtual-office skills, such as writing more effective emails, reading nonverbal cues over video conferences, and assessing verbal communication over the phone.
Can this course improve my outlook or help boost my creativity?
In this course, you will learn how to channel your emotions into a healthier mindset, quickly becoming more observant and mindful of the world around you. Don't let your emotions run you. This course helps you learn how to harness them to become more thoughtful, creative, and productive in your daily life.
Can this help in my personal relationships?
Whether a spouse, a child, a neighbor, a friend, or a new prospective partner, all relationships are based on communication! This course gives you insight into how to improve communication and conflict management in current relationships while also helping you be a better judge of character when forming a new one.
Will this course help me when working with other animals besides horses?
Many of the techniques offered are helpful when working with household pets, such as dogs and cats. This also includes adopted or rescued pets with trust issues or those who may have previously been mistreated.